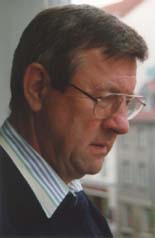 Wolter Freiherr v. Tiesenhausen was born on 30 September 1940 in Athens, where his father, Berend Reinhold Freiherr v. Tiesenhausen, was editor in chief of the German newspaper "Neue Athener Zeitung". He grew up in Giessen, West Germany, and began his journalistic career in the German service of the American news agency "The Associated Press". In 1963 he changed to AP´s parliamentary office in Bonn. Two years later he started working for the Bonn office of "Mannheimer Morgen", aswell as several other regional newspapers.
In 1966, he married Waltraut Glasenapp. Their daughter Elisabeth was born in 1967, followed by two sons: Matthias (1970) and Cyrill (1975). In 1980, the family moved to Kiel, capital of the German land Schleswig Holstein, where Wolter worked for the then Prime Minister Gerhard Stoltenberg. He wrote speeches for Stoltenberg and worked on the politician´s federal engagements, which at the time was a particularly interesting task as Stoltenberg was part of the CDU shadow cabinet led by Franz Josef Strauss. But already one year later, the then leader of the federal opposition and chairman of the Christian Democratic Party, Helmut Kohl, called Wolter back to Bonn.
This excursion into politics was followed by a long-lasting career-shift into radio journalism, as Wolter became the chief editor of the Bonn office of Deutsche Welle (Germany's international radio). In 1997 he moved to Berlin where he led the transformation of the Deutsche Welle's Berlin office into a parliamentary studio.
Wolter v. Tiesenhausen is a knight ("Rechtsritter") of the Order of St. John, he has been decorated with the federal merit cross ("Bundesverdienstkreuz") first class and has held honorary positions in professional and charity organisations. He is not a good, but a passionate golf player, loves the opera and is interested in the Middle Ages and recent history. His dream is to write a great historical novel.